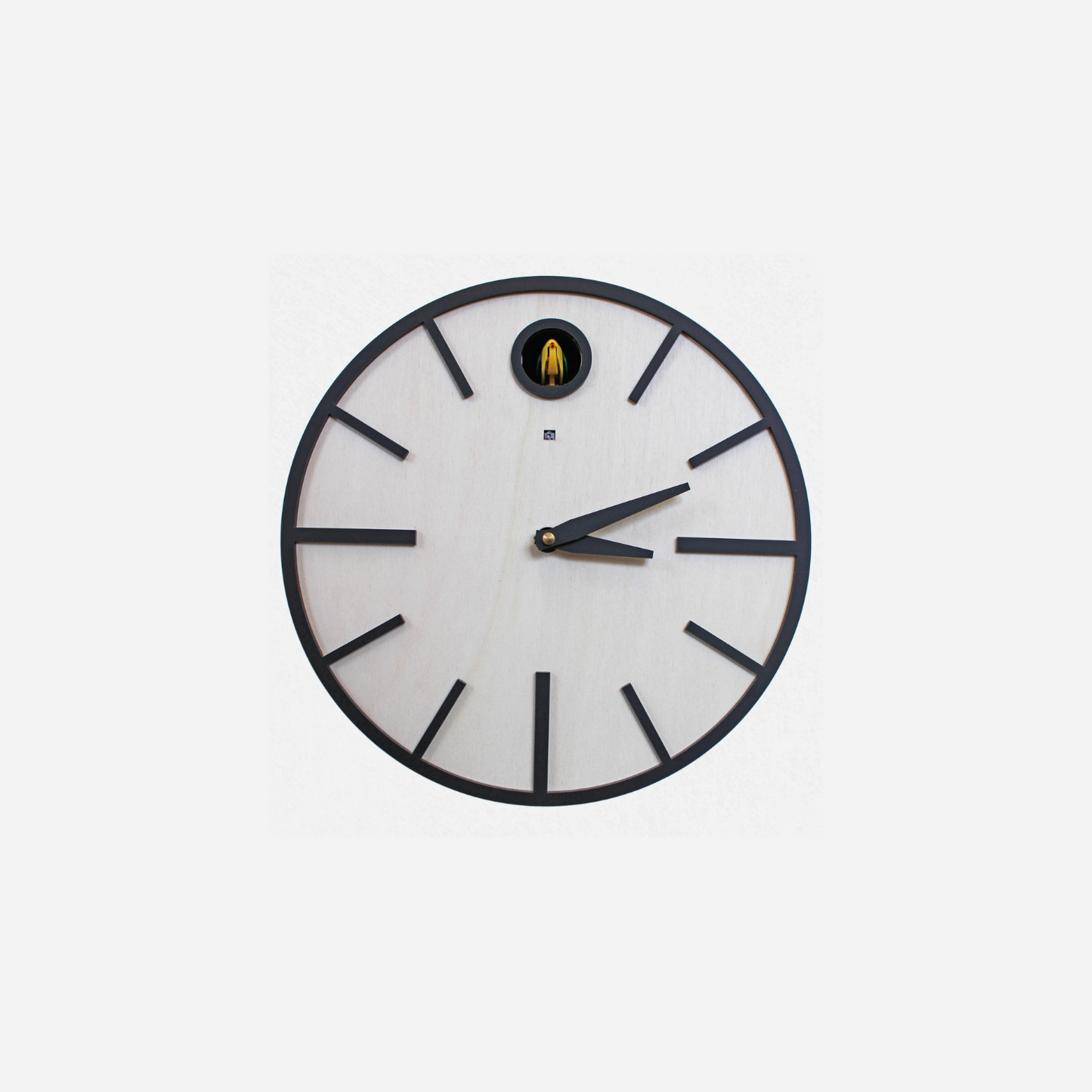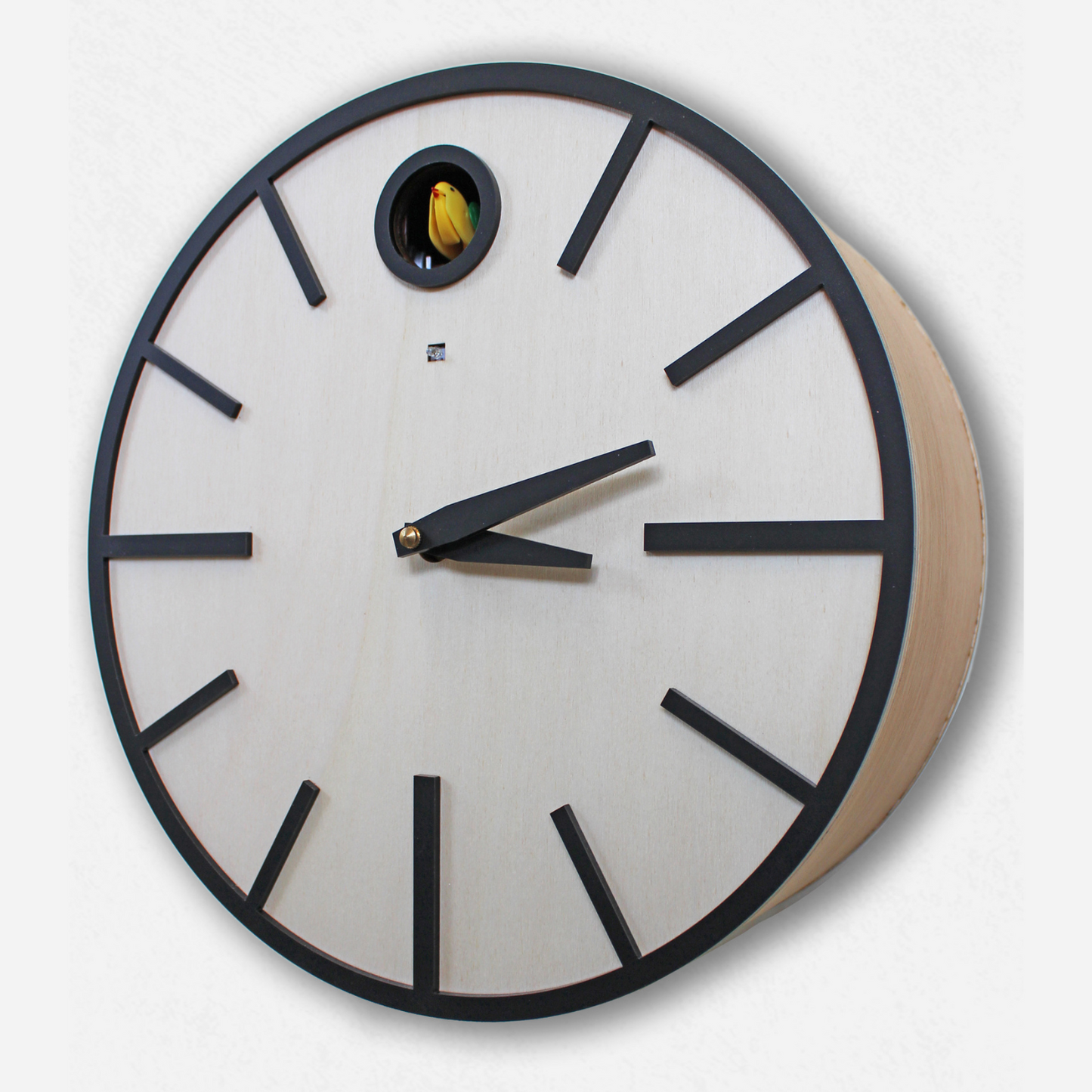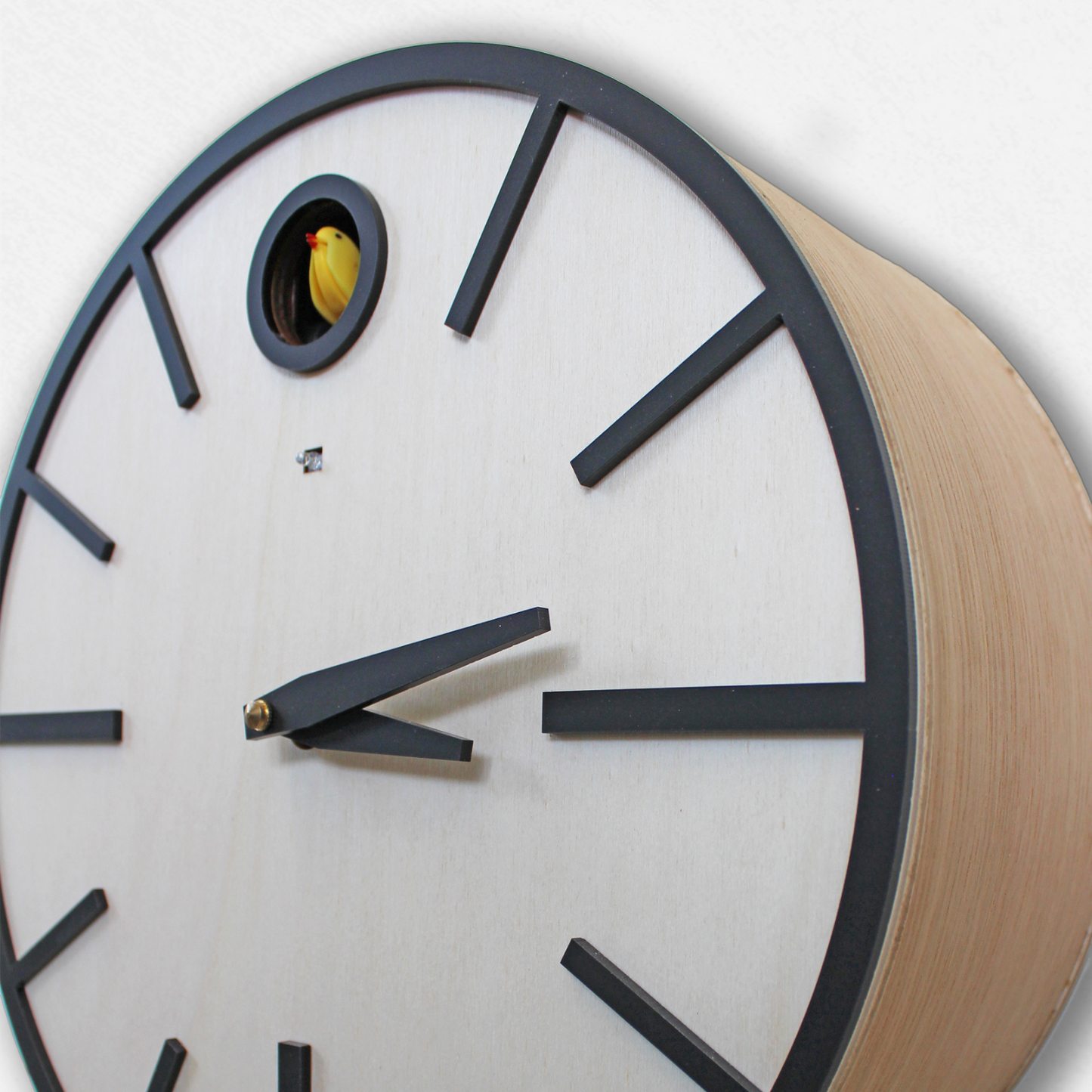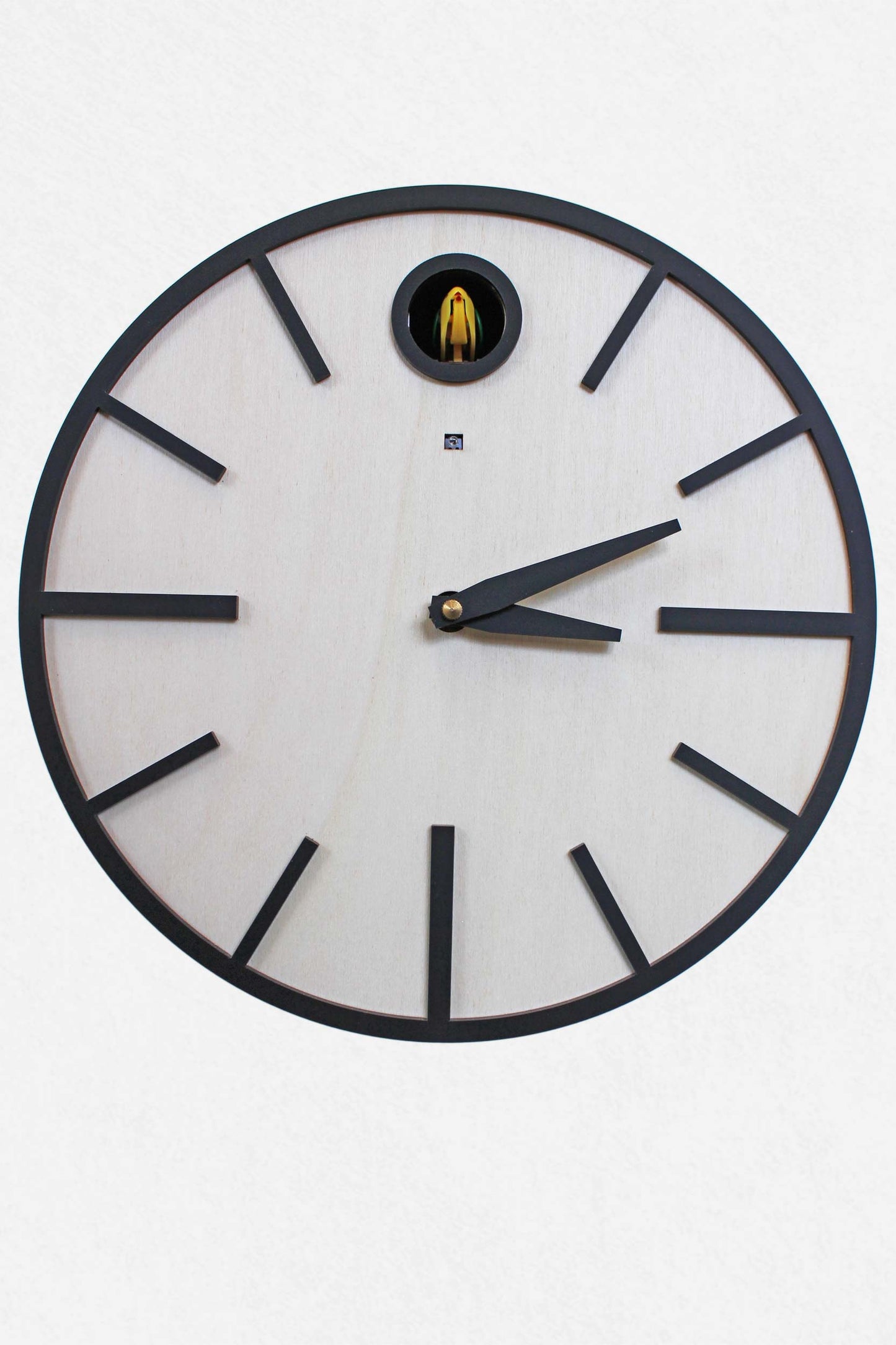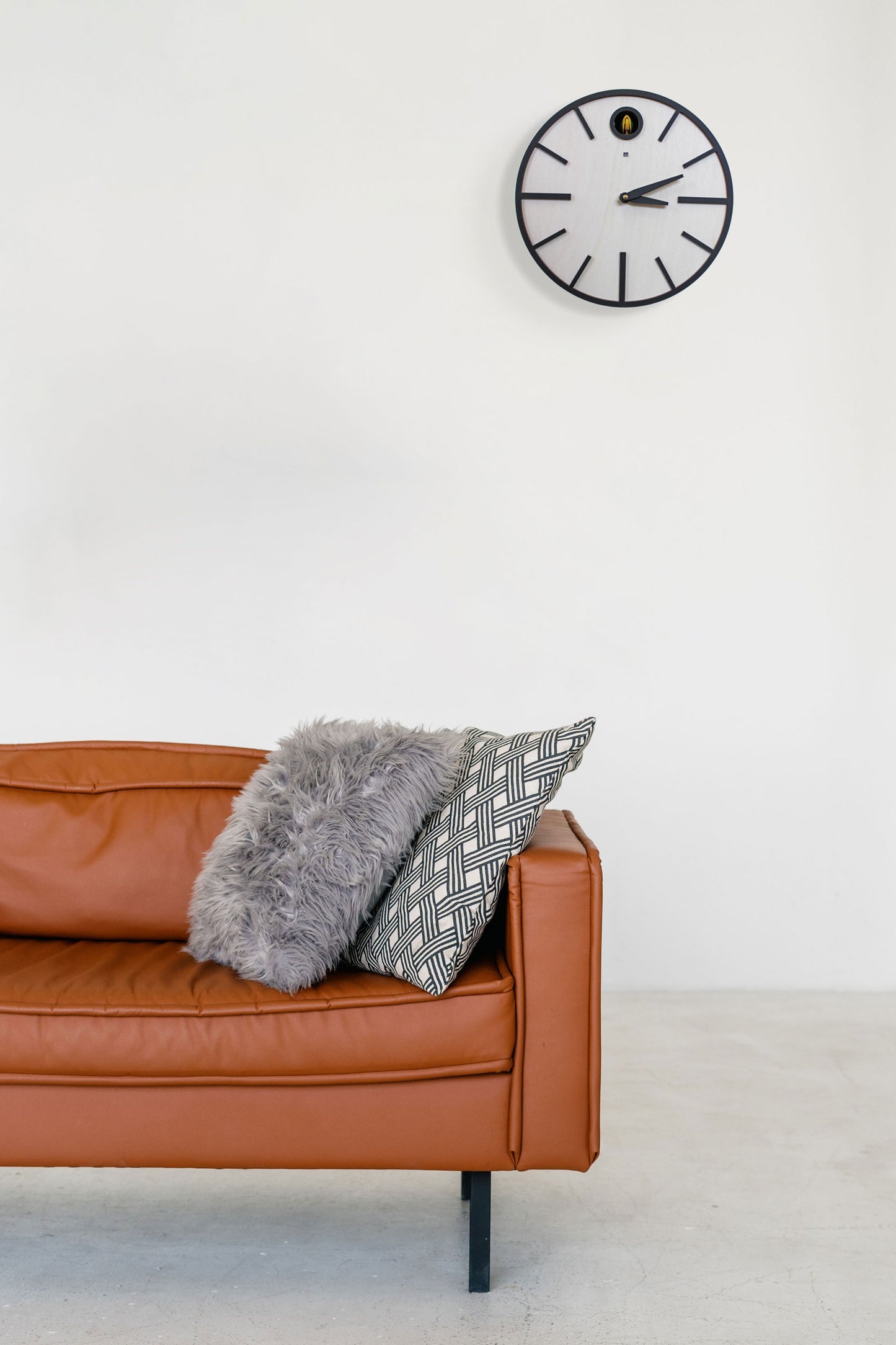 Platform
Customise this clock
This clock can be completely customised to your personal requirements, including custom colours, components, monograms and engraved messages. Please contact us here to discuss your Platform clock customisations.
A circular wooden Cuckoo Clock, inspired by the train platform clocks of central Europe.
The cuckoo comes out to call every hour but a clever light sensor will prevent him from waking you during the hours of darkness!
Details:
Hand painted with hand carved components.
Materials: Poplar plywood, Laminated Oak, Acrylic.
High quality VOC free water based paints and dyes.
Battery powered (2x D size batteries are required - not included)
Colour: Natural wood with a black dial and hands.
Dimensions:
Height: 30cm / 11.8 inches (inc pendulum)
Width: 30cm / 11.8 inches
Depth: 10.5cm / 4.13 inches
Delivery: 

Every clock is made to order in Hawea, NZ.
Please allow 2-4 weeks for production prior to dispatch.
Using one of the existing clock designs on the website is a good starting point for creating a customised clock.
Specific colours, monograms, initials, names, inscriptions, animals, items, logos and shapes can all be incorporated into a custom design.
Alternatively we can work with you to create a totally unique design from scratch.
Whatever you choose for your clock we will discuss and agree on the design before any work commences.
Once it is fully designed, priced and agreed we will ask for a deposit to get started. From then on you will receive regular contact to keep you updated on progress. Once completed, an invoice for the balance payment & delivery will be sent.
Soon after you'll receive your clock.
Wooden clocks are hand painted using Resene Lumbersider water based paints or stained using the Resene Colorwood range. There are hundreds of colours to choose from and if you have a particular colour in mind, either to create a bold contrast to your decor or as a colour to match your interior just let us know.
We use only high quality VOC free water based paints, stains and oils.
Unpainted wooden elements are treated with beeswax polishes or water based varnishes.
Metal clocks can be painted in a large range of colours. Let us know what you're looking for and we can colour match it.
Please allow up to 4 weeks for your custom clock to be completed. There is every chance that your clock will be completed sooner than that and I'll be able to give a more accurate guide once we've discussed your individual project.
Once complete, your order will be insured and delivered using a trackable courier service.
We work with a selection of courier companies to get your clock to you in perfect condition no matter where you are in New Zealand or overseas. If you live in Central Otago there is a good chance that we will deliver your clock by hand!
Larch clocks are made in beautiful Lake Hawea, Central Otago, New Zealand.
Find out more about Larch here.
Your clock will come with a set of instructions detailing how to setup, adjust and maintain your clock. It's all simple stuff but worth keeping hold of for future reference.
You can read the instructions here.
Yes! Do you represent a business searching for a batch order of superior unique gifts, prizes or statement pieces to fit out boutique accommodation?
Larch would love to collaborate with you to create an option which suits your needs. From clocks carrying your company or event  logo right through to fully branded custom clocks.
All of our products hold the prestige of being 100% New Zealand designed and made.
To find out more about how our clocks can complement your business please contact us.
Yes, Larch clocks are designed to be enjoyed for many years and come with a 2 year manufacturer warranty from the date of purchase.