Ingredients of a Cuckoo Clock
One of the most surprising and under considered things about setting up business in a totally new location is the loss of trade connections and knowledge of materials in the local market.
NZ is a much smaller market than I am used to buying from and selling to, so I've had to start from scratch in most regards.
It has taken quite a while to find the materials I need in the dimensions I want!
I've been used to making many of my cuckoo clocks using 3, 6 an 9mm timber but here 4 and 7mm are common. It seems a minor difference but any files I laser cut are all based on those specific measurements so I needed to find the right dimensions at the correct quality.
The war in Ukraine has also proved problematic as much of the European birch ply which comes to NZ is actually made using wood from Russia. I've since found a PEFC registered timber from Spain. I'd prefer to use locally grown radiata but this is often less stable due to it's very fast growth rate and is generally made into ply which is glued using phenolic exterior grade glue.
For now It's Spanish poplar for most of the clock cases. 
In terms of colour, Resene has been a godsend, they make a fabulous range of locally made paints and stains which are easily available.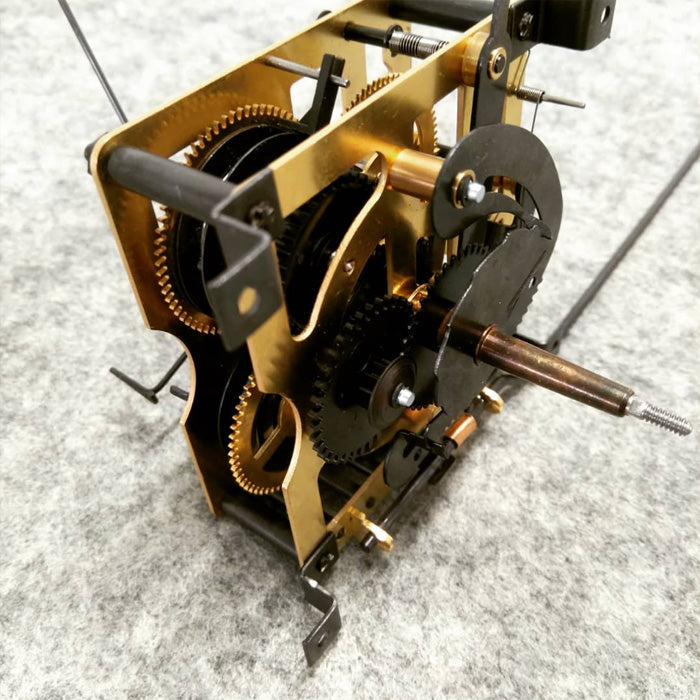 The heart of every cuckoo clock is the mechanism.
The heart of every cuckoo clock is the mechanism. The majority of my clocks are made using Quartz movements from Korea. This is the manufacturer of choice for most German clock manufacturers too. They're highly accurate and well made and suit most people's lifestyle better than a mechanical movement.
For custom clocks I can also use a mechanical German made mechanism. They are a lot of fun, and need winding (by raising the pinecone weights). This needs doing every 24 hours or 8 days, depending on which movement I use. Mechanical movements are great for the purist but have no automatic shut off for night time and they also have a mechanical 'tick tock' which makes them less suitable for small households or those who don't like that sound.
Personally I love the mechanical movements, but wouldn't want one in my bedroom.
Mechanical mechanisms are also more expensive and take more time to fit.
Linden or Lime wood is most often used for the carved parts in the northern hemisphere. It's a soft pale wood which is great for carving.
I've been testing various woods which are available locally and for a reasonable price.
Linden is not native here and is pretty hard to buy (if available at all it is expensive)
I've been testing making carved cuckoo clock parts with locally grown radiata. This is harder to carve but with the correct tools and some perseverance it actually works quite well. 
I'm making all of my own dials and hands in the workshop plus the majority of pendulums, so I don't need to go elsewhere for those.
I'm constantly experimenting with new materials and suppliers but always with the mindset that wherever possible I'd prefer to use something local rather than from far away.